Hello friends!
Yesterday was Picture Day for Miss AuBrynne!
And had I not been an admitted fabric-hoarder, this post likely would have been a letter of complaint to the fabric manufacturers. You see I am more disappointed than usual at the lack of color and print fashion forwardness. But, you see, I came home (after 2 long days of fabric store hunting) and got into my stash. And friends, I found a cute striped knit with pinks and oranges and reds and purples.
For the little girl who is loving Strawberry Shortcake right now, I thought this would be perfect.
So, I threw together this little asymmetric little play dress.
You know she had to add her own touch: A headband I made her recently for a BRACELET...
So, I get it finished, and the little thing says to me:
Are we finished? Cuz I'm not wearing this tomorrow...
I suppose I shouldn't be so stunned when she mirrors my sass.
But I AM!
She did decide it was cute enough to wear for pictures.
So, I guess I wont complain, for now.
Now, it's time for the
Making It With Allie Party!
What have you got this week?
I am anxious to see!
You all are SO inspiring, I can't wait!
So, grab a button (below) or a text link is fine too.
Follow along if you like what you see.
I want to visit all of your links,
so link up your direct post, not your main blog page!
Feel free to link up as many links as you would like,
let's just make sure they are not just pages to sell product...
And visit some of the others and share some comment love!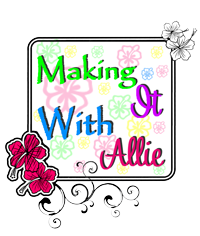 If you have issues linking your post, feel free to email me and I can add it directly :)