Halloween is coming!
And I am SO excited!
September 1 came around and I didn't care how hot that attic was!
I was getting out the Halloween!
So, I have had the thought for a while that I wanted to have a miniature tree with birds and some spooky headstones.
But have you seen the price on those positional trees, lately??
I can't stomach $30 or even half that with a coupon...
So, I decided I could grab some paper covered floral wire and make one.
And I think it turned out pretty great!
AND it only took half an hour!!
Yay! for me for doing it for $2.99!
Now I need to decide if it gets a coat of black paint and/or superfine black glitter....
Any suggestions?
Here it is with some little birds, headstones and piles of bones:
Now, I'm off to finish some more Halloween decorating!
Here's a sneak peak of what I am working on:
Now, it's time for the
Making It With Allie Party!
What have you got this week?
I am anxious to see!
You all are SO inspiring, I can't wait!
So, grab a button (below) or a text link is fine too.
Follow along if you like what you see.
I want to visit all of your links,
so link up your direct post, not your main blog page!
Feel free to link up as many links as you would like,
let's just make sure they are not just pages to sell product...
And visit some of the others and share some comment love!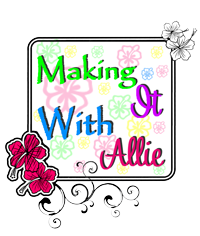 If you have issues linking your post, feel free to email me and I can add it directly :)