Hello friends!!
We have just landed back home in Chicago today.
Things have been crazy busy...
Today is AuBrynne's 5th birthday and I am scrambling to prepare.
So party without me today and I will share all the fun stuff I have been up to lately!
Now, it's time for the
Making It With Allie Party!
What have you got this week?
I am anxious to see!
You all are SO inspiring, I can't wait!
So, grab a button (below) or a text link is fine too.
Follow along if you like what you see.
I want to visit all of your links,
so link up your direct post, not your main blog page!
Feel free to link up as many links as you would like,
let's just make sure they are not just pages to sell product...
And visit some of the others and share some comment love!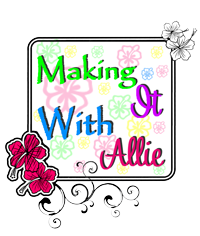 If you have issues linking your post, feel free to email me and I can add it directly :)
(Collection closed)