Hello Friends!
What have you been up to this last week?
Getting ready for Valentines Day??
We have around here, but today I am going to share with you a quilt my daughter, AuBrynne "commissioned" me to make for her.
I just LOVE this kid!
SO, AuBrynne just LOVES the Dr. Suess story about the Grinch.
She would watch both the animated version and the Jim Carey version and read the book and play the nook app 3 times a day if I let her.
So, when we were at one of my favorite fabric stores last week, she spotted this Grinch fabric.
It was on sale, so I grabbed a yard thinking I would quickly make her a pillow case.
But then, we were picking plush fabric out for another project and she said, "Hey! I think this Pink fabric would be great with my Grinch fabric."
I first, was like, "My name is Mom, or Allie, not hey..." and silently I looked at her as if she had two heads. She looks at me like that all the time when I ask her not to leave her pj's on the bathroom floor every morning after bath. It's her turn.
But, I grabbed some plush for her.
She decided at that point, I was making everyone else a quilt, she needed one too.
Well, later I decided we had gone this far with letting her choose the fabrics, why not let her do the rest.
So, she chose another 11 fabrics to go in her quilt.
Great.
So, I got to work, whipping this together for her.
Then, she said her name needed to be on it "All Sparkly"
Great.
But, I am Wonder-Woman, I can do anything, right?
Ok, So I grabbed some white flock heat transfer and this SUPER Fantastic Pink Soft and flexible glitter heat transfer and layered in on.
It turned out AWESOME!!
It's perfectly whimsical and cuddly and AuBrynne made the most perfect choices!
I am SO pleased with it!
She even chose the rounded corners!
I hope you can see the fun wavy quilting lines!
And after the heat transfer was added, she said it needed pink stitching around the letters.
And you know what???
She is is EXACTLY right, Little Miss Smarty-Pants!
So, I'm in love with it and love to cuddle with her under it!
Now, it's time for the
Making It With Allie Party!
What have you got this week?
I am anxious to see!
You all are SO inspiring, I can't wait!
So, grab a button (below) or a text link is fine too.
Follow along if you like what you see.
I want to visit all of your links,
so link up your direct post, not your main blog page!
Feel free to link up as many links as you would like,
let's just make sure they are not just pages to sell product...
And visit some of the others and share some comment love!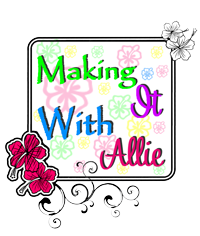 If you have issues linking your post, feel free to email me and I can add it directly :)