Hello Friends!
The Tooth Fairy is visiting our house tonight!
A few days ago, I noticed that Miss AuBrynne's bottom teeth were looking a little askew.
Upon closer inspection, it appeared that she had a very loose tooth.
Like within a week, this little thing was coming out.
And the one next to it was not far behind.
I had a little moment right about this moment:
She's barely 5 years old!! Babies can't loose baby teeth... lol
So, I started looking for fun Tooth Fairy ideas to do when the teeth started to come out.
I found really sweet ideas on Pinterest.
And decided that we will be doing a little tooth chart/wall hanging.
Yesterday, AuBrynne and I picked out some cute fabrics she liked for it.
I thought I had at least 3 days to get the thing together, so I finished up another project before I'd start this...
WELL.
My chronic procrastination got me this time!
We were out running errands this afternoon, when a VERY excited voice exclaimed,
"Mom!! Mom!! My tooth came out!"
I get to the light and have a look at her and she has plucked this thing out and she's proud of herself.
Good job, AuBrynne! Now we wait for the next one...
So, we have dinner and she escapes to her room to read.
I start ironing fabrics to make her Tooth Fairy Chart...
She comes out and says,
"Mom! The other tooth came out... All by itself!"
Yeah.
So we have a little talk about how we can't go plucking all our teeth out...
I think she gets it now.
However, the family keeps telling me that she's gonna yank them all out and then ask for a check...
We shall see.
When the swelling calmed down, you can see that both of those teeth are totally broken through
and coming in at the same time.
But the little toothy-lispy-talk now is SO cute!
Here is the tooth chart, if anyone would like to use it:
I can gladly email it to you!
Now, it's time for the
Making It With Allie Party!
What have you got this week?
I am anxious to see!
You all are SO inspiring, I can't wait!
So, grab a button (below) or a text link is fine too.
Follow along if you like what you see.
I want to visit all of your links,
so link up your direct post, not your main blog page!
Feel free to link up as many links as you would like,
let's just make sure they are not just pages to sell product...
And visit some of the others and share some comment love!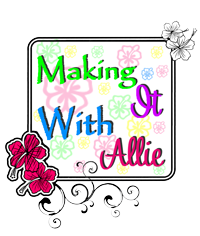 If you have issues linking your post, feel free to email me and I can add it directly :)