So, you know how last week, I promised to have Miss AuBrynne's Easter Dress ready to show you?
Yea, I am hemming the tiers just now when I remember that tonight is Wednesday and the baby is in bed...
So, I didn't get pictures of her in it.
You will have to stop by next week to see it.
But one of the projects I DID finish this week was a quilt for one of my gal-pal's little boy.
He wanted a cuddly, cars and trucks themed quilt.
So, I went to work to make him a snuggly he could even play with his race cars...
When I brought it to him, he was TOO cute for words about it. I'm SO glad that he's happy!
Now, it's time for the
Making It With Allie Party!
What have you got this week?
I am anxious to see!
You all are SO inspiring, I can't wait!
So, grab a button (below) or a text link is fine too.
Follow along if you like what you see.
I want to visit all of your links,
so link up your direct post, not your main blog page!
Feel free to link up as many links as you would like,
let's just make sure they are not just pages to sell product...
And visit some of the others and share some comment love!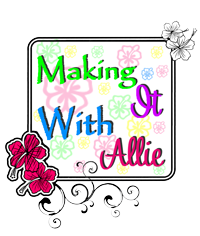 If you have issues linking your post, feel free to email me and I can add it directly :)