Hello Friends!!
How was your recent holidays of Easter and Passover?
Ours was lovely!
I love this age with kids. They love to celebrate and learn about these fun holidays.
We did a night-time egg hunt with glow in the dark bracelets and plastic eggs.
We did a traditional Egg hunt on Sunday morning and we are still finding eggs...
I prepared Miss AuBrynne's Easter dress.
Actually, I made another one, but the fabric was being, shall we say, Cranky.
When I worked in the costume department, we called it "woodjy".
The fabric was certainly being woodjy. I tried adjusting stitch length and needle size and even doing bias seams. Nothing helped to make the fabric cooperate. I really don't know why I waited till I was hemming to just start again. I guess I thought I could salvage it. I couldn't.
So...... Thursday night, I started over.
AuBrynne and I quickly established what design she wanted and I took a deep breath.
But, it went SUPER fast!
And it turned our adorable.
I nearly had to wrestle it off her for bed that night.
She LOVES to wear it. And her little kitten-heels we found for her.
So hear are some "blustery wind" (as AuBrynne says) photos from our Sunday morning egg hunt.
We live in the Chicagoland area, but the winds lately have been RIDICULOUS!
They were coming from every direction Sunday.
Anyways...
Somebody thinks she is a high-paid model...
And a sassy "model walk", haha.
Those two bottom teeth are almost all the way grown in! I'm going to miss the lost-teeth-lisp.
AuBrynne insisted on this photo because you can see her shadow.
She is REALLY into Peter Pan right now.
Now, it's time for the
Making It With Allie Party!
What have you got this week?
I am anxious to see!
You all are SO inspiring, I can't wait!
So, grab a button (below) or a text link is fine too.
Follow along if you like what you see.
I want to visit all of your links,
so link up your direct post, not your main blog page!
Feel free to link up as many links as you would like,
let's just make sure they are not just pages to sell product...
And visit some of the others and share some comment love!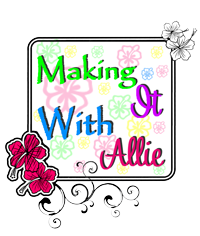 If you have issues linking your post, feel free to email me and I can add it directly :)