Alright, We are going to try a Linky Party! I, myself, love the Linky Parties that are out there.
I like being able to see what all you friends are doing out there in blog-land.
So, If this goes well, we will maybe make it a weekly thing.
I am thinking we will call it:
Two easy guidelines:
1: Your
direct-post
link should be something you made
2: Please display the Link Party Button (below) SOMEWHERE on your blog or linked post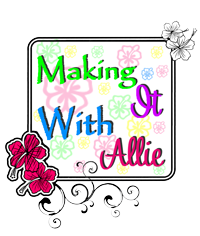 I am going to leave the link open from Thursday Morning until Sunday Night at midnight.
So, feel free to spread the word!
I also intend to post a list of favorites to feature your wonderful creativeness!
I hope you all Enjoy!
And while it is not a requirement,
Please Show some love and leave a comment when you visit the other links!
So, I will start the Party off with this submission:
Today, we have more stripes. I'm not sure if this one falls into the "tunic" category, but I'm going to call it a Tunic. I think it will be cute with a long-ish t-shirt peeking out underneath. But I couldn't get the model to comply with putting them both on. This is a new thing... Normally, AuBrynne likes to have several layers.