You remember how I showed you all how I dressed my home for Halloween?
By The Way: It's ever changing. I will take a picture when I have decided to stop messing with it...
Anyways, here is a reminder: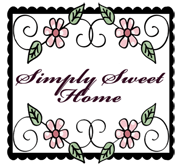 If you haven't been fortunate enough to check out her blog, head over there to be pleasantly tickled!
I will give you the "grocery-store" warning:
Eat before you go, or you will find yourself buying things you hadn't planned on...
Jerri has the most delicious and fun recipes to try!
The pictures make you want to get out the back of chocolates!
And Jerri hosts a weekly Link Party on Fridays called
Simply Sweet Friday Favorites.
Head on over and drop her a line.
And grab a recipe to make for the weekend.