I have a story to tell you all.

Halloween is over and so we have been doing a few crafty things with a Fall theme to them.
I know there are some of you out there will be outraged with this admission, but it its what it is:
You see, my least favorite colors are these warm fall colors.
I would be happy to never have to decorate with a red, orange, yellow or brown.
I think it is because it signals cold weather.
And I just can't stand the cold.
Well, I decided I would make at least a welcoming door decoration with a fall theme.
So, I set out and put this little guy together:
My mother is happy and thinks that I am actually developing some sense of "style"...
No, comment, Mother.
Anyway, we start to get it hung on the door when we realize that the "outer" screen door,
wont shut if this guy is hanging on the door.
You see, it's pretty deep to begin with, and then you add all of the decoration onto it,
and the door wont shut.
Ok. Well, lets try something else.
I have had this idea, kind of floating in my head, for a more "vertical" door decoration.
So, I got some fabrics and burlap and some old soup cans and I throw this together.
She's pretty cute, right?
I can even deal with the orange, because there is some pretty purple in it.
Rustic, but not TOO rustic...
Well, guess what?!
Screen door still wont shut!
I quit.
Ok. Not really...
So, my mother and I put this table arrangement together.
I like how kind of "Mod" it is.
But whimsical too!
So what, you ask, has made it to my door?
The first project is just outside the door in the outside entryway.
The second one is just inside the door in the inside entryway.
I have yet to decide what will go on the door.
I am thinking that I will leave it and just try something for Christmas or Winter instead.
Unless, of course, one of you Crafty Bloggers inspires me :)
Inspire Me!
Enter your crafty doings into the party!
Grab a button if you can!
Become a follower if you like what you see!
Visit some others and leave them some sweet comments!
And spread the word about the party!
I love seeing when somebody tells me that they came from one of your blogs!
It gives me a warm-fuzzy!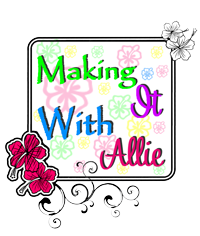 ---
This linky list is now closed.