Welcome friends!
I am glad to have you all come to party again this week!
I had EVERY intention of sharing Miss AuBrynne's Halloween costume this week.
However, the fates are conspiring against me.
So, I guess you all will have to check back on Halloween to see the fun reveal!
I will share with you some of my Spooky Relatives.
I have a nice picture-wall set up for Halloween that includes spooky silhouettes.
Here is the whole vignette:
I would love to leave this little wall up all year round.
But a certain little person has already told me the Spooky Family needs to be put away after Halloween so the Santa Family can be put up... I love kids!
Anyways, here are a few tidbits on the items I made to include here.
So, I had been looking for an antique-y looking birdcage for some time. Well, real old ones are expensive!
So, we were running errands a couple of weeks ago and noticed the new Ross was having their grand opening, so we took a stroll through. And would you believe they had my birdcage?!
All I had to do was spray it black and add my crows~
And this silhouette of my Spooky Aunt might be my favorite part!
I cut her out with my Silhouette cutter in this ABSOLUTELY Gorgeous Sparkling Iridescent Champagne Vinyl from my favorite place - Specialty-Graphics.
If you have not heard of them, check them out! They have the most amazing fun stuff!
This orange charger got a good dose of the sparkle vinyl treatment too!
Until I find the right chandy for this place, this is what I will have...
So, my other favorite item is the Skull-Crow-Black-Snow Globe!
I found it at Ross too! and I could not believe the clearance sticker on this guy!
And I found the candelabra (in the back) at Goodwill for $1!
A little black spray paint and it's perfect!
So, how are you all decorating for Halloween?
I do hope you will share in the party!
Now, it's time for the
Making It With Allie Party!
What have you got this week?
I am anxious to see!
You all are SO inspiring, I can't wait!
So, grab a button (below) or a text link is fine too.
Follow along if you like what you see.
I want to visit all of your links,
so link up your direct post, not your main blog page!
Feel free to link up as many links as you would like,
let's just make sure they are not just pages to sell product...
And visit some of the others and share some comment love!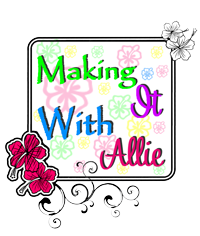 If you have issues linking your post, feel free to email me and I can add it directly :)
(Collection closed)